2019 Virginia Strategic Plan
Virginia Regional JLUS Implementation Strategy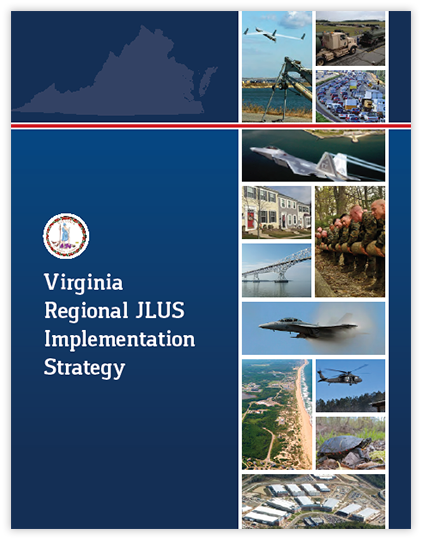 Over the past decade, the Department of Defense (DoD) has invested billions of dollars in construction on military installations across the Commonwealth of Virginia. Actions impacting the Commonwealth resulting from the 2005 Base Realignment and Closure (BRAC) were very favorable and resulted in growth at almost every military installation and base in Virginia.
Coordinated land use planning and decision making is necessary to assess the Commonwealth's position in protecting the military missions in Virginia in order to sustain the superiority of the nation's defense in the Commonwealth of Virginia.
Other Resources
2018 Re-entry Roadmap for Veterans Incarcerated in Virginia
US Department of Veterans Affairs
Policy and Procedures for Encroachment Grants
In the event the Virginia General Assembly Appropriates funds to the Secretary of Veterans & Defense Affairs to address encroachment on a military installation, this document provides the policy and procedures to apply for such funds.


Virginia Veteran and Family Support (VVFS) Program

Virginia Veteran and Family Support (VVFS) Program monitors and coordinates behavioral health, rehabilitative, and supportive services through an integrated, and responsive system of care. VVFS provides peer and family support and care coordination services to Virginia veterans, members of the Virginia National Guard and Armed Forces Reserves (not in federal service), and their families with a special emphasis on those affected by stress related conditions or traumatic brain injuries resulting from military service.


Virginia Values Veterans (V3): http://www.dvsv3.com/
The mission of the V3 program is to train and educate employers on the value and high-quality skills that veterans possess. The program is committed to helping these employers recruit, hire, and retain veterans, and as a result, showing them how these former servicemen and women will grow their businesses.


Post-9/11 G.I. Bill: Post-9/11 G.I. Bill
The Post-9/11 G.I. Bill went into effect in August 2009, expanding educational opportunities for veterans. Those who served thirty-six months or more qualify for full coverage of undergraduate in-state tuition and fees at public colleges and universities; those who served less time are eligible for fewer benefits. In some cases, the new program allows veterans to pass along these benefits to their dependents.




Download the Virginia Department of Veterans Services (DVS) app for your iPhone or Android smart devices!
For a full list of available resources, please visit the DVS website: www.dvs.virginia.gov