About
The Secretary of Veterans and Defense Affairs serves an important two-fold purpose. First, it distinguishes and elevates issues and opportunities for veterans and transitioning service members in the Commonwealth of Virginia. Of primary importance are the employment, health care, and education needs of our veterans. With the Nation's fastest growing veteran population and the greatest number of veterans in the workforce per capita, the Secretariat maintains a particular focus on employment of our newest generation of veterans who have the new and current skills needed here in the Commonwealth.
The Secretariat also leads the Governor's initiatives focused on relationship building with and support of our military and defense installations and the communities surrounding them. Through the Governor's Virginia Military Advisory Council (VMAC) and active Secretariat community involvement, the Commonwealth continues to be an engaged host in support of the military and defense missions in the state.
We are honored to serve the Commonwealth and our veterans, and look forward to working with you to continue to make Virginia the most veteran and military friendly state in the Nation.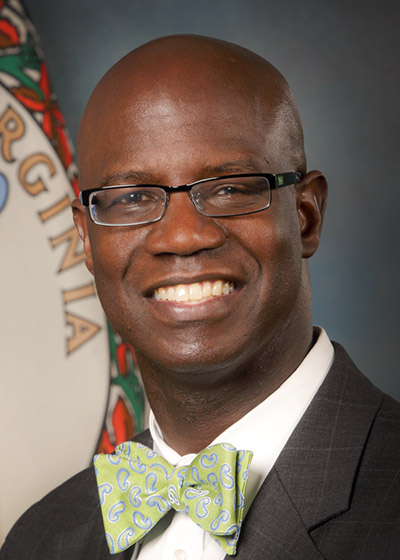 Secretary of Veterans and Defense Affairs
Carlos Hopkins
Carlos Hopkins currently serves as Virginia's Secretary of Veterans and Defense Affairs, the state's top official for coordinating state and federal resources to support Virginia's veteran community and liaison with federal defense facilities. Former Governor Terence R. McAuliffe appointed him Secretary on September 1, 2017, following Hopkins' service over the previous 3 years as Counsel to the Governor where he advised the Governor on the impact current federal and state law might have on the Governor's policy proposals. Governor Ralph S. Northam reappointed him to a new four-year term.
Carlos was born in Columbia, SC and is a graduate of The Citadel in Charleston, SC, where he graduated with a degree in political science with a concentration in law and criminal justice. He received his law degree from the University Of Richmond School Of Law and is licensed by the Virginia State Bar.
Carlos began his legal career at a small firm in the City of Richmond handling insurance defense cases and federal court appointed matters. He left private practice to join the Richmond Commonwealth's Attorney's office. Carlos served seven years as a prosecutor in the City of Richmond where, as a Deputy Commonwealth's Attorney he supervised the office's narcotics and Project Exile prosecutions, working closely with his federal and state counterparts to stem the flow of drugs and illegal firearms in the City. As the Deputy in charge of the office's Manchester Courthouse Division, he supervised the prosecution of all cases occurring within the City of Richmond south of the James River. He also prosecuted a broad range of felonies including capital murder, rape and numerous drug and firearm offenses.
After a brief stint managing a solo practice, Carlos returned to the public sector when he was asked to serve as the Training Director for the newly restructured Virginia Indigent Defense Commission, the state agency that manages Virginia's public defender system. The agency also determines the eligibility criteria for court appointed counsel-those attorneys who provide a legal defense for indigent persons accused of crimes that carry a potential penalty of incarceration or death.
In 2013, Carlos joined the Richmond City Attorney's office after operating his own solo practice the previous two years. As a Deputy City Attorney, his practice areas focused on tax assessment and eminent domain litigation as well as public safety. He was instrumental in bringing together members of the administration and Council staff to address the issues surrounding the reclamation of derelict properties in the City. After Governor McAuliffe was elected to be Virginia's next governor, Carlos was then tapped to be the Governor's Counsel in January 2014.
In addition to his civilian legal experiences, Carlos currently serves as the Staff Judge Advocate for the 29th Infantry Division at Fort Belvoir. He has over 27 years of service in the Reserve and Guard forces of the United States as a Judge Advocate and former enlisted Soldier and, from July 2008-July 2009, he deployed to Guantanamo Bay, Cuba where he served as the Chief of Military Justice as part of Joint Task Force Guantanamo.
Carlos is an avid golfer and runner and has a son, Isaiah.
Deputy Secretary for Veterans and Defense Affairs
Kathleen T. Jabs
Kathleen T. Jabs is Virginia's Deputy Secretary for Veterans and Defense Affairs where she works to coordinate state and federal resources to support Virginia's veteran community and liaison with federal defense facilities.
Kathleen is a native of Massachusetts and graduated with distinction from the U.S. Naval Academy where she earned a Bachelor of Science in English with concentrations in Russian and engineering. She completed six years of active duty before transferring to the Navy Reserve where she commanded three units and retired as a captain in 2017. From 2008-2019, she served as a civilian in the Department of Defense with duties as Deputy Director of Management and Public Affairs Officer for the Office of the Chairman Joint Chiefs of Staff at the DOD Suffolk Complex and Director of Communications for US Joint Forces Command. In 2018, she was selected to the CIVIC Leadership Institute Executive Program Class of 2019.
Kathleen has more than 30 years of government, military and academic leadership and communications experience, including involvement with public affairs operations at Navy Chief of Information, NATO's Allied Command Transformation, US Fleet Forces Command, and National Defense University. Her military career spans a variety of active duty and reserve positions, with service in Japan, Hawaii, Panama, the Pentagon and military installations along the East Coast.
In addition to her defense career, Kathleen earned a Master of Fine Arts in Creative Writing from George Mason University and has published several award winning stories, a novel and many articles in literary and national publications.Named a fellow at the Virginia Center for Creative Arts, she serves on the board of the Williamsburg Book Festival, the Peninsula Naval Academy Alumni Association and is a certified Virginia Master Naturalist with the Historic Rivers chapter.
Kathleen is married to Eric Jabs, a retired Navy Captain and current Navy civilian. They have two adult children, Lydia and Nick.
Assistant Secretary of Veterans and Defense Affairs
Leslie J. Frazier
Leslie J. Frazier serves in the administration of Virginia Governor Ralph S. Northam as the Assistant Secretary of Veterans and Defense Affairs. Her responsibilities include: advising the Governor and Secretary on issues impacting Virginia's nearly 1 Million service members, veterans, and their families (SMVF), creating the secretariat's annual legislative package, managing and tracking budget items, and working with the Governor's senior policy team, members of the Virginia General Assembly, and state agency leadership to create and implement the best initiatives for the SMVF population.
Assistant Secretary Frazier previously served in the administration of Governor Terence R. McAuliffe as the Assistant Director of Appointments. Prior to that, she served as the Policy Director for the Secretary of Veterans and Defense Affairs. Before joining the Governor's Administration, she worked on several political campaigns. A native of Chesapeake, Virginia, Leslie received her Bachelor of Arts degrees in Government and Spanish from the University of Virginia and her Master of Public Administration from Virginia Tech. She is also a graduate of two leadership programs under the Sorensen Institute for Political Leadership.
Contact Us
Secretary of Veterans and Defense Affairs
State Capitol Building
3rd Floor
1000 Bank Street
Richmond, VA 23219
For regular U.S. mail, please use the following address:
P.O. Box 1475
Richmond, VA 23218
Phone Numbers:
(804) 225-3826

You can also email our office at vada@governor.virginia.gov


Share and Like us on Facebook!
www.facebook.com/VirginiaVeteransAndDefenseAffairs

Follow Us on Twitter!
https://twitter.com/virginiavada